Home

About Us

Product Range

Canvas Care

Photo Gallery

Payment Terms

Advantages

Dimension

Sitemap

Contact Us

Enquiry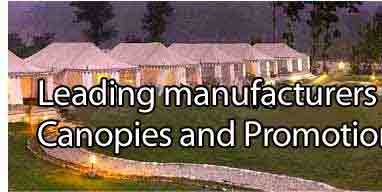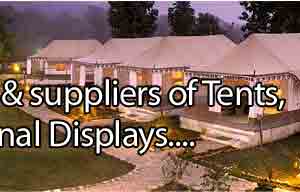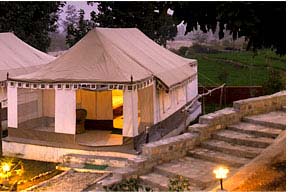 Canvas Care
Though canvas tents are durable and have high finish, these too require a maintenance procedure to be followed to increase their life. Factors like mildew, permanent setups of tents or damp storage spaces can make these durable tents ruined and loose its attractive finish. Hence, one needs to call for proper care steps for maintenance of these tents. These include:
Occasional ventilation of tents (if tent is set for long periods) by opening flaps or raising walls which will prevent humidity and moisture from creeping in and creating mildew on inside walls of tents
Windy conditions can lead to damages to canvas especially in the grommet area and tent frames as high wind conditions can stretch and tear the fabric particularly at areas where lines are attached
Do not allow accumulation of water/snow on canvas as this would lead to stretching & sagging of canvas and eventually cause leakage
Cleaning and Storage:
While setting the tents, ensure all stakes are placed properly so that canvas is free of any creases/sagging that can cause water to pool up
Clean canvas tent with water and brush. It is advised not to use soap/detergents as the chemicals present in these can damage the water-resistant properties of canvas
Clean and dry tent before storage as storing damp canvas causes mildew to grow rapidly and ruining the canvas Store tents in cool and dry place away from direct sunlight
Tips & Warnings:
While bringing wet tents home from trips, ensure the canvas is immediately set for drying and then stored properly, thus reducing chances of mildew formation. Further, do not use bug repellents, insecticides, soaps or detergents directly on canvas as it may damage the water repellent treatment given to canvas. Some of the other issues that need to be looked after include:
Shrinkage - As canvas is made of 100% cotton, it shrinks to some extent thus affecting the measurements of tent and finished size.
Fire - Though the fabric is given a fire-proof finish, yet it can catch fire in case of direct flame source contact. Hence, users should make necessary measures to reduce chances of fire incidents.

©
Sai Tents & Exports
. All Rights Reserved (
Terms of Use
)
Developed and Managed by
IndiaMART InterMESH Limited