Home

About Us

Product Range

Canvas Care

Photo Gallery

Payment Terms

Advantages

Dimension

Sitemap

Contact Us

Enquiry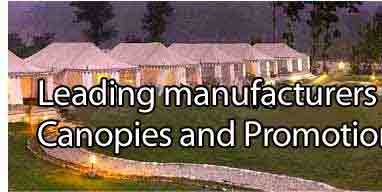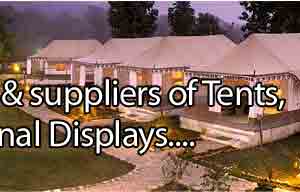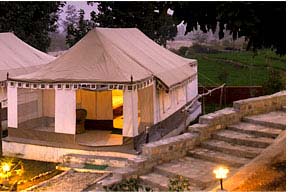 About Us

For making great tents, one has to perfectly understand the use of traditional crafts blended into contemporary lifestyle. With the process involving arranging patterns, tassels, embroidery work, appliqué, wood block printing and other look enhancing steps, the artistic and ornamental touch provided indeed makes one wish to spend some time in these secure, soothing and lavish surroundings.

We "Sai Tents & Exports," are one of the leading and prominent manufacturers and suppliers of a wide variety of beautifully handcrafted Indian Tents. With our 14 years of rich process experience backing the operations, we are able to match up with the demands of creating sturdy interior and covered spaces in gardens and out in open natural land surroundings. With the available range including Luxury Resort Tents, Marquee Tents, Army Tents, Camping Tents, Conference & Exhibition Tents, Relief Tents, Traditional Tents, Display Canopy & Garden Umbrella and others, we also offer with these necessary well crafted and aesthetically designed tent furniture.

With involved business operations led under the guidance of experienced management led by Mr. Ajay, we are able to provide these exclusive handcrafted, hand-block printed and designed pieces in quality fabric finish for meeting the usage demands in any type of open weather conditions. Further, the management also guides the professional craftsmen working for us that allow us to create in these tents a lively finish that is ideal to meet the demands of occasions like Resort usage, Beach parties, Garden weddings, Weekend and Theme parties. At each and every step of your celebration, we promise to add more luxury to these mesmerizing fabric structures.

Today, the success achieved by us is a great inspirational source for us. For maintaining this in everyday operational procedures involving our working, we pay high attention towards quality standards maintained with procedures to check tents over different construction stages for parameters like shrinkage of fabric, fire resistance and others. Further, our customer centric approach also guides us to perfectly understand what our customers need and deliver them end tenting solutions in exactly the same finish standards as desired by them.
Quality Assurance
Quality has always been a vital issue for us and we have formed concrete steps to ensure the standards are maintained at each level of involved operation stages for manufacturing these exquisite tenting range. We also ask for feedback from customers and use them in further improving our processes. Further, the strong technological advancements maintained at our end also helps us to conduct stringent checks on maintaining quality right from the fabric procurement stage till the final packaging and dispatch of the consignment.
Some of these checks include:
Raw Material Strength
Seamless Finish
Strong Structure
Fire resistance
Shrinkage Resistance
Our Team of Experts
We have with us dedicated team support comprising of skilled experts. Their superior craftsmanship techniques and being well versed in this domain, we are able to create the right magic in the exclusive collection of tents offered by us for different occasions and usage means. The process expertise of our team has also helped us in earning due industry recognition in our area of operations.

The extensive and rich knowledge of our team also helps us to understand and meet client's requirements within short lead times. Further, it also helps us to develop designs as per client's specifications as well as introduce new design features and structural changes so as to offer better comfort levels to our customers.
Clientele
Roberto Stipa, Italy
John Brennan, Netherlands
Laser Hotel, Uttarakhand
Payment Terms
We have standard payments for all the deals that we are making with client, these payment terms ensure deal confirmation from buyer as well as from us and also help to deliver best quality products within predefined time period.

Our payments terms include:
50 % of the total payment in advance at the time of deal only and the rest 50 % of the payment are made at the time delivery of products. 100 % of payment is made clear till time of delivery of products.
Thanks for Reading about Sai Tents & Exports.



©
Sai Tents & Exports
. All Rights Reserved (
Terms of Use
)
Developed and Managed by
IndiaMART InterMESH Limited